Just a little friendly reminder that tonight is the night!
Mini-Challenge begins at 6 pm EDT at our YarnWars Group and there will be 3 winners tonight so I really hope you'll join in on the fun!
I also wanted to share with you a few FREE pattern picks of YarnWars that are extremely functional for many different occasions, fashion forward, fun and FREE!
A couple of these are free for a limited time so make sure you stop by soon!
I am sticking today with a shawl/wrap theme as I've been having fun trying my hand at these lately, and the nice thing about shawls is you can wear it in a casual or dressy environment, you can get as fun and crazy with your color choices as you like and on a slightly chilly day, you don't have to pull
out a jacket! Perfect huh?!
So without further ado… the following are my YarnWars pattern picks! I hope you enjoy these free crochet wrap patterns & possibly give one or more of these a try for yourselves! =)
(IMPORTANT NOTE: The images shown below belong to and are the property of each of the designers listed with each of the patterns.)
The first pattern I would like to share with you today is from the designer Elk Studio, The "Royal Summer Shawl". FREE for a limited time!
This wrap would be perfect for a walk on the beach or a night on the town! Choose your perfect colors and be the talk of everyone you see while wearing this brilliant piece! Visit Elk Studio Hand Crafted Crochet Designs today for this and other fun FREE patterns!
My next pick is from a designer whom I've worked a couple of patterns already over the last few months, and I have really enjoyed her designs.
This particular design is the next on my list =) Simply Collectible has a way with shawls, wraps and fashion overall! As you can see with this beautiful
"Coraline in Minden" design, Celina has combined the wrap and cowl giving you the perfect touch of warmth on a breezy day!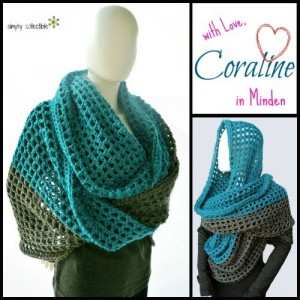 This oversized free cowl wrap is available for FREE at Simply Collectible Crochet along with several other fun shawl and wrap patterns!
Another FABulous choice is this beautiful "Stripey Poncho" from Crochet Kim!

This fun, colorful lightweight cover is beautiful for many occasions. Let your color juices flow!!
Depending on your choice of yarn, this could be light and airy with a beautiful drape, or make it with a heavier weight yarn for a little more warmth & cozy appeal. Either way, this is sure to stand out in a crowd and could be designed for both casual and dressy events!
Visit Crochet Kim today to try out this fantastic, FREE poncho pattern!
Last on my list…. but certainly not least!
This beautiful Bernat design "Yes Yes Shawl" By Vicky Howell – Bernat Design Studios I find this to be an accessory that would compliment almost any occasion.

I am currently working on this shawl myself, the pattern is fun, simple, I will say you have to really keep track of where you are at in the pattern because it is a bit different from row to row, but I personal LOVE a bit of diversity in a pattern.  So far, mine is coming along nicely and I can't wait to finish so I can share it with all of you! Visit Yarnspirations to download this lovely, FREE pattern!
Well that pretty much "WRAPS" it up for today everyone!
I hope all of you have a wonderful day, filled with sunshine and yarning and all things FaBuLoUs!!
Do not forget to be back in the YarnWars group at 6 pm EDT this evening if you plan on participating in the Mini-Challenge!
We are going to have 3 winners, and it's sure to be a good time! Click here for more information on tonights fun and games!
Until next time, a YARN good day to you all!